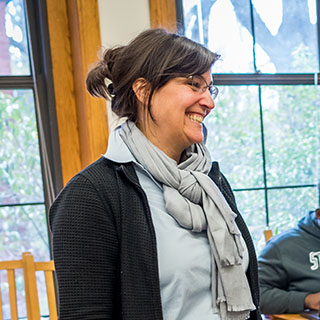 On January 19th, 2018 the ceremony of the Endowed Chair Installation took place. This ceremony awarded the Trustees' Chair to John Camp, Associate Director of The Center, Student Enrichment and English Teacher, and The Mrs. William Greenough Thayer Faculty Chair to Heather Harwood, Classics teacher. The entire St. Mark's community gathered to honor and congratulate both Mr. Camp and Dr. Harwood for their incredible achievements.
The Trustees' Chair is a "fully endowed faculty chair established by the St. Mark's Board of Trustees and by the generosity of an anonymous challenge gift." When asked if Mr. Camp expected this award he said: "No! When I earned the Kidder Faculty award on Prize Day in 2012, I didn't expect that, either. I will say, though, that I work diligently to be the best teacher and colleague that I could be so that I could be considered worthy of an award. As a teacher, however, I would never expect an award. I'm happy when my students get awards!" Receiving the award of this Chair is an incredible honor and is extremely prestigious. Faculty vote upon these chairs and it is apparent that the St.Mark's community appreciates Mr.Camp's contribution to the school as a teacher. When asked what this Chair means to him personally, he responded: "The Trustees Chair is probably the most important honor that I will get in my career. St. Mark's isn't a stepping stone job for me--rather, I would like to be an important stone for the school for the remainder of my career; the chair honor makes me feel that part of the school, which is a great feeling." Colleagues and students have been very supportive of the well-deserved award, as Mr. Camp says, "I sincerely appreciate the comments and support that I've received from my colleagues. Each congratulation or comments that I got are really important to me. Immediately after Mr. Warren made the announcement at school meeting, Colin Boylan emailed me to say congratulations. That was an awesome message to get!" As a community, we are all very proud and pleased with the honor that Mr.Camp has received.
Dr. Harwood was awarded The Mrs. William Greenough Thayer Chair. This Chair was created in the memory of Violet Otis Thayer who was the wife of the sixth St. Mark's Headmaster. It was created in 1962 and stands as the second longest faculty Chair. Dr. Harwood said that she "never expected it to be me" when asked about her thoughts on receiving the award, she called it a "big surprise!" Her hard work as a teacher has been recognized by the community and she has received positive remarks about the award. Dr. Harwood mentioned how "colleagues have been so generous and kind with their comments and congratulations. That outpouring has been the most moving for me. It makes me feel very appreciated and known by my colleagues which is pretty special." Even after receiving this award Dr. Harwood wants to keep doing more for her students and to better herself as a teacher, she believes that she still has a lot to learn. " A teacher is someone who is always learning. I think a teacher is paradoxically by definition someone who both wants their students to learn and also wants to learn more themselves. I feel I am engaged in teaching as an art form and am always practicing and trying to improve upon that art."
Dr. Harwood and Mr. Camp are well-deserved recipients of the Chairs and highly respected teachers of the St. Mark's community. We are excited and proud of their accomplishments and hard work.
Full speeches by Dr.Harwood and Mr.Camp from the Endowed Chair Installation ceremony:
https://www.stmarksschool.org/academics/faculty/endowed-chairs/heather-harwood
https://www.stmarksschool.org/academics/faculty/endowed-chairs/john-camp